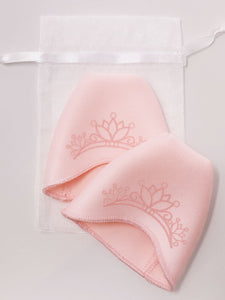 Pointe Pockets by Gaynor Minden
The perfect ultra thin toe pad. Even though they are built for Gaynor Minden pointe shoes they work wonderfully in any shoe you want just a little comfort in.
Made in the U.S.A. with medical grade, hypo-allergenic TPE gel — feels fabulous and holds up better.
4-way (not 2-way) ultra soft stretch polyester fabric in beautiful Ballet Pink with a subtle tiara design. 
---
We Also Recommend