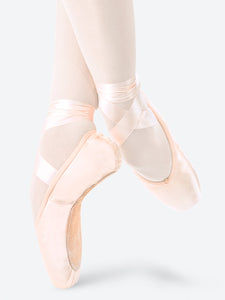 2007 Pro Pointe Shoe by Grishko
The GRISHKO model designed to combine the best features of every other Grishko pointe shoe model.
FEATURES: 
- It has a medium rather flat toe platform and a classical vamp (somewhat intermediate between U and V). 
-It assures an exquisite line of the foot and arch and it is recommended for all types of feet as for beginners and advanced dancers. 
-Grishko-2007 is a specially designed extra light model with a suede machine-stitched sole. 
-It provides an easy transition from the demi-pointe to the pointe and back. 
-T-he shoe is distinguished by its perfect balance and placement, outstanding durability, lack of noise and perfect comfort.
Upper material: light salmon satin Sole: suede leather
Don't see your shoe? Give us a call! We will make sure your shoe is stocked so you can subscribe. spacers
Don't forget your Grishko pre-cut Ribbon, Elastic, Pointe Cushion Toe Pads, and Lamb's Wool!
---
We Also Recommend