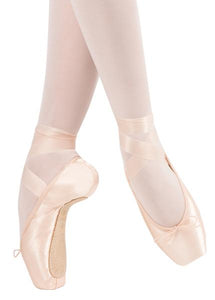 Allure Dream Pointe 2007 Pointe Shoe by Nikolay
This pointe shoe has more than 3 times longer lifespan vs. classical styles due to the state of art chemical free insole materials.

- Paste free and the use of thermoformable materials help make the insole of this shoe very lightweight.

- The box made of natural materials absorbs moisture..

- The insole is assembled by hand and with care.

- Forefront padding and pillow-like insole guarantee added comfort and coziness.

FEATURES: 
1. The U-shaped medium vamp has long wings. 
2. Unique integrated construction of an insole and platforms of eco-friendly  thermoplastic material. 
3. Soft padding in pointe shoe platform. 
4. Wide fore sole. 
5. The heel is 5 mm lower than in Grishko-2007.
Don't forget your Grishko pre-cut Ribbon, Elastic, and Pointe Cushion Toe pads! 
---
We Also Recommend