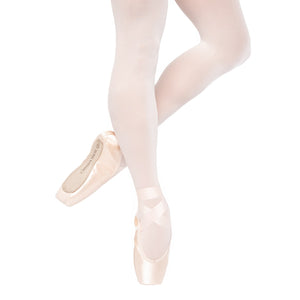 Rubin Radiance U-Cut with Drawstring by Russian Pointe
Don't see the size you need?  We are always happy to special order for you.  Contact us today!
Working from the versatility and unsurpassed popularity of Rubin, comes the next generation – Rubin Radiance. Made on the original Rubin last with the same box shape, Rubin Radiance flaunts dazzling new features. A narrower heel cut allows for a sleeker fit, while a suede tip at the platform provides improved traction and durability. Rubin Radiance features a 3/4 shank, and double-lined satin gives the pointe shoe more structure. Like the original Rubin, Rubin Radiance's low crown, pre-arched construction, wide platform and slightly tapered box combine to suit a variety of foot shapes.
3/4 shank
Narrow heel
Low crown
Wide platform
Slightly tapered box
Suede tip at platform
Pre-arched construction
Double-lined satin
---
We Also Recommend