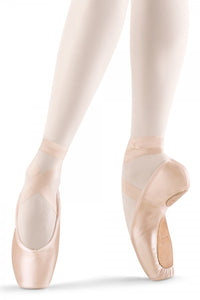 Axi Stretch Pointe Shoe S0177L by Bloch
The Axi Stretch is one of Bloch's new and exciting range of pointe shoes featuring groundbreaking innovation in a category virtually unchanged in over 120 years. With the latest stretch materials, these features combine to allow ultimate articulation of the foot and unparalleled connection between foot and shoe. One seamless, flawless line is now a reality.
Features
Outer split sole for increased contact between arch of the shoe to arch of the foot
Flexible insole with strong center piece supporting under the foot and to the highest point of the dancer's 3/4 arch
Wings of the shoe wrap around the ball of the foot and feather out to dancer's 3/4 arch for ultimate support
Jersey fabric on either side of the inner heel for ease of sewing
Improved fit to the heel of the foot for less bagging of material and added suede for increased comfort
Flat, oblong platform for ease of balance
Improved satin tip for longer lasting platform
A-paste for better resilience and natural breakdown
Designed to break at the highest point of the dancer's arch, the Axi Stretch will hit all major internal contact points of the foot for the ultimate 90 degree angle.
---
We Also Recommend