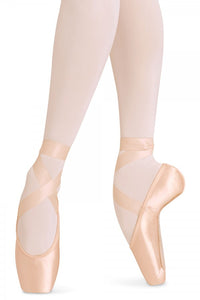 European Balance Pointe Shoe ES0160L by Bloch
The Balance European allows the dancer to feel like they can stand en pointe all day because the curved last and the shank remain in close contact with the instep significantly improving injury protection. It hugs the foot and creates a beautiful, seamless look.
Wide platform

Ample box

Diagonal side seam

Form fitting shanks

The generous platform encourages balanced weight distribution and can reduce pressure on individual metatarsals.
Don't see your shoe? Give us a call! We will make sure your shoe is stocked so you can subscribe.
Be sure to snag your Bloch stretch satin ribbon, sheer stretch ribbon and covert elastic as well!
---
We Also Recommend