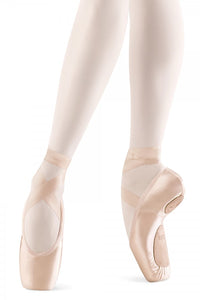 Dramatica II Stretch Pointe Shoe S01732L by Bloch
The Dramatica II is one of Bloch's new and exciting range of pointe shoes featuring groundbreaking innovation in a category virtually unchanged in over 120 years. With the latest stretch materials, these features combine to allow ultimate articulation of the foot and unparalleled connection between foot and shoe. One seamless, flawless line is now a reality.
Features
En Pointe last features arch hugging technology
Improved heel shape of the shoe and a low vamp, provides better fit to your foot, especially for those dancers with shorter toes or tighter muscles under the foot.
Unique stretch satin adheres to the foot like second skin
A split sole design has been incorporated for maximum stretch at the arch allowing complete articulation through the positions such as demi and releve
A Paste for better resilience and natural breakdown
Elastic drawstring and stretch satin binding improves the fit of the upper
Flat oblong platform and high wings for immediate support and ease of balance
Inner foam liner for added shock resistance and comfort
Leather grip at the heel to ensure perfect fit as the dancer rises from flat to en pointe.
---
We Also Recommend