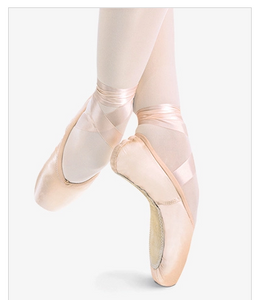 Elite Pointe Shoe by Grishko
Grishko's Elite is a revolutionary shoe for dancers with short, even-length toes, who may find other pointe shoes too tapered, and for feet with extra width throughout. Elite's square shape features a short U-shaped vamp, broad platform, wide heel and supportive full-length shank.

 



Grishko pointe shoes are made in Moscow, Russia, by expert cobblers who craft each shoe individually by hand, using natural, non-toxic materials. The company designs its shoes based on in-depth study of anatomy and function, to best ensure superb performance and protect dancers' health and safety on pointe. Grishko's attention to detail includes balancing each shoe by hand; using cotton drawstrings to protect against tendonitis over-tightened elastic can cause; using glues that help the toe box mold beautifully to the foot; maintaining shank mobility at the heel without sacrificing support; designing both platforms and soles to be flat and stable for excellent balance on and off pointe; and selecting only the finest satin for a beautiful appearance. Grishko pointe shoes are considered reliable, durable and consistent.

Color:
Light European Pink Satin.
Content:
Upper: Satin/Man-Made; Sole: Leather
 Features:
Wide Square Box
Short/Average Vamp
Low Profile
Medium/Hard Shank Strength
Medium Box Strength
Square Foot Shape
Don't forget your Grishko pre-cut ribbon, elastic, Ouch Pouch toe pads, Super spacers by Bunheads and lamb's wool!
---
We Also Recommend