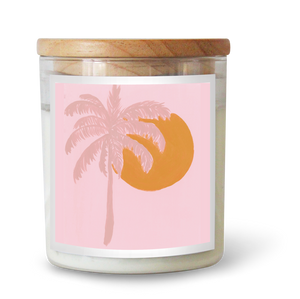 Palm Paradise by Natalie Jade Soy Candle by Commonfolk Collective
Our Palm Paradise Candle Features Artwork by Natalie Jade who is an Australian artist with indigenous roots that inspire her. 
Natalie originally started as an abstract artist over ten years ago but now considers herself more of an intuitive artist. The paint creates what it wants itself to be without any pre planning.
"The purpose of my art is to create something beautiful that has a vibration through the colour and forms to uplift others and it's surroundings".
You can find Natalie Jade at Natalie Jade
Mindful Message to embrace each time you light this candle:
"Uplift others with your Vibration."
Our Candles have 600g of creamy, pure and renewable soy + coconut wax, blended with our own Australian made fine fragrances oils and enriched with essentials oils.
Enjoy 80-100 hours of bliss
---
We Also Recommend