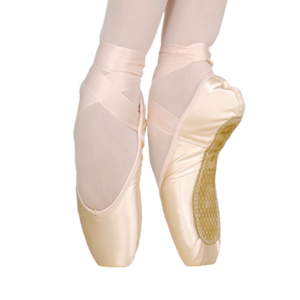 2007 Vegan Pointe Shoe by Grishko
A U-shaped medium vamp with a drawstring, medium platform, machine-stitched suede sole. New anatomical form extremely supportive and comfortable for all kinds of feet. The specially designed extra light model with a suede machine-stitched sole provides an easy transition from the demi-pointe to the pointe and back. The shoe is distinguished by its perfect balance and placement, outstanding durability, lack of noise and perfect comfort.
Size: 1 – 8
Width: X; XX; XXX; XXXX; XXXXX
Shank: SS, M, H
Don't forget your Grishko pre-cut ribbon, elastic, Bloch pointe toe pads, silicone spacers, and lamb's wool!
---
We Also Recommend